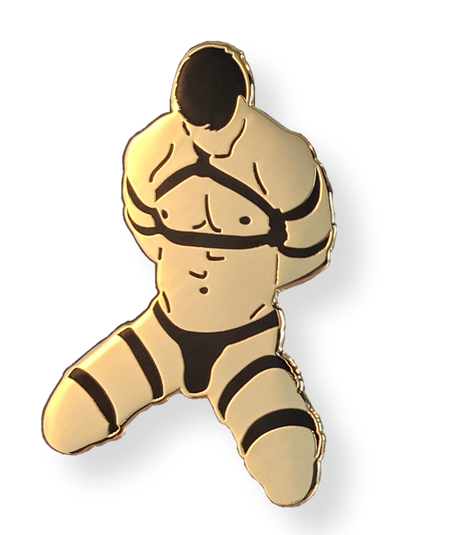 Details
MASTER OF THE HOUSE: Pin Bound
These limited edition pins are a great way to show off your kinky side. Wear them on your hoodie or on your lapel and let the world know what you're into. These hard enamel pins are crafted in a matte black and gold color combination so they're impossible to miss. Branding and numbering is laser cut on the back. These are extremely limited and once we sell out we won't get the same styles again so pick one up today. 
Hard enamel pin in matt black and gold.
It's 3,5cm high and has two safety closures.
Branding and numbering is lasered on the back.
Limited edition. 
Master of the House
In 2017 Master of the House was conceived in Amsterdam by two creative minds, exploring the meaning of masculinity, sexuality and queer-culture. The first collection of limited edition pins was quickly picked up by key retailers in the leather and fetish world. Within a year the wearable art of Master of the House is available in over 15 stores world wide. Inspiration : From classic leather to rubber or the more recent genre of puppy play, at Master of the House we are inspired by all ways people express their sexuality. All designs represent a balance between the provocative and the beautiful. Our mission : Master of the House creates an exciting world for the open minded. Enabling kinksters to communicate their fetish and desires in an aesthetically pleasing and fashionable way.